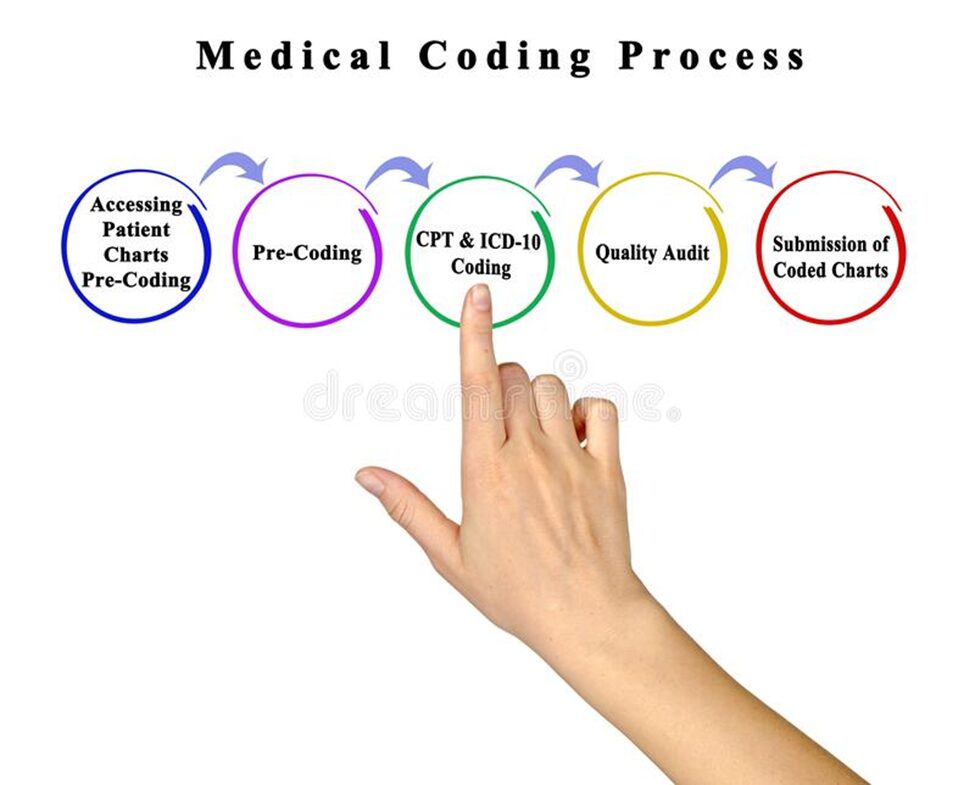 Frequently Asked Questions (FAQ)
Medical Coding is the act of assigning a code to a medical service.
It consists of a system designed to uniformly represent and report medical services.
Basically, medical coding is medical language (documentation) translated into numbers.
The classroom is located at 8 South Dunlap, GEB, Memphis, TN 38163 Classes also held online.
ICD-10-CM
CPT with anatomy of organ systems (entire book)
HCPCS Level 2 entire book
Overview of Medical Compliance & Billing, Medical Terminology and Anatomy
Further details are located in catalog
Please review our enrollment policy
Student must contact the director to discuss their knowledge and experience level for coding and/or billing practices that are current or past. Enrollment forms must be completed prior to enrollment. Further details are located under enrollment policy and admission tab.
Each class is $135 for four-to-six hours Workbooks and membership cost is $ (subject to change) Textbooks, Examination and Student Membership costs are NOT included.
The textbooks to purchase are:

AMA-Current Procedural Terminology (CPT) Professional Ed. (strongly recommended)

International Classification of Diseases 10th, Clinical Modification (ICD-10-CM)

Healthcare Common Procedure Coding System (HCPCS) Level 2

AAPC's approved manuals are stated at 

www.aapc.com/certification/cpc.aspx
Yes, each review class is offered at the end of each class session.
Certified Professional Coder CPC (Physician coding)
Certified Outpatient Coder (COC) Formerly known as CPC-H
Certified Professional Coder-Payer (CPC-P)
Certified Professional Biller (CPB)
Certified Risk Coder (CRC)
Several Specialty Exams - refer to www.aapc.com
Yes, but only after student has passed the national certification exam. Refer to AAPC's CEU policy.  CUHA do offer CEU's online.
For general information see catalog.
See Course Curriculum, and catalog for full details.
Graduation ceremony is scheduled upon completion from the PMCC. The student will be provided a certificate of completion and a transcript during the graduation ceremony. Student will not receive contact hours for any class not attended.
I am a graduate of Donna Martin's spring 2016 class. Prior to enrolling in Donna's class, I worked in the medical billing field for two years before I decided to pursue a career in the medical coding field. For those of you who are interested in pursuing a career in medical coding, I highly recommend Donna Martin's class. The class is very intensive and informative. Donna goes above and beyond to make sure her students retain the material she teaches. Donna will give you all of the tools needed to successfully pass the CPC exam. Thanks to Donna, I passed my CPC exam on the first try. Not only do you develop a great relationship with Donna during class, but that relationship extends beyond class to the extent of her helping you find a job. Donna is a great mentor, educator, and she genuinely cares about her students.
Brittany Williams, CPC, CHCA Reimbursement Clinical Analyst
"Taking the course at CUHA was by far the best choice I've made in my career path. I started with little knowledge of coding & was very nervous about taking the course, thinking it would be too overwhelming, with me working, as well as being a Mom & wife. Not only is Donna a great instructor and deeply knowledgeable in Coding, but is also very caring, encouraging, and down to earth. I'm proud to say that I passed the course & the CPC exam, on the first try. Thanks to Donna & CUHA, I now have a great career in which I enjoy."
Tasheena Freeman, CPCA
I thoroughly enjoyed taking this course from Donna Martin. She's very kind, knowledgeable, patient and very helpful. I love the mentoring approach Donna takes with her students. She always took care to answer our questions and clear any doubts before proceeding on to the next lesson. Donna has years of experience in this field which adds real value to the course. She presented each lesson in a format that made a complex subject remarkably interesting and understandable. This course exceeded my expectations and significantly expanded my knowledge in CPT, HCPCS Level 2, ICD-9 CM, coding guidelines and compliance. The curriculum was direct and covered everything needed for me to successfully pass the Certified Professional Coding test on my first attempt.
Sheila Robinson CPC-A
Attending CUHA for a coding course changed my career and life. The pace of the course is very fast and challenging. However, with hard work and dedication I was able to get through the course with the assistance of a great teacher and passed the AAPC coding test the first time. I learned and obtained so much information from this course and I find myself referring back to notes taken during the course even today. I appreciate all the knowledge gained from the course and with the information obtained I look forward to exploring all avenues that the coding world has to offer! Thanks again!
Donna Allison Marshall, CPCA
I have been with the medical field for more than 10 years. My exposure as a Practice /Billing Manager gave me a lot of experience to fulfill my job. However, the knowledge that I have learned especially when I took a class with Coding Unlimited HealthCare Academy (CUHA) under Ms. Donna Martin was very motivational to enhance my skills and gave me the passion for my career advancement. The class that I took for Professional Medical Coding Curriculum (PMCC) was extremely rewarding, challenging and the most fulfilling part was when I passed my CPC. I would like to thank Ms. Donna Martin for all the encouragement and support. AAPC has also given me the quality of education and training that helps me to be more confident and more knowledgeable in the medical field. Since the PMCC, I recently pass the Certified Professional Practice Management national exam
Bettina C. Ruaro, CPC, CPPM
Obtaining my CPC was challenging. However, with a great instructor such as Donna, I was able to pass my exam the very first time!!! She encourages her students to think outside the box. Her lectures and the way she presented them were miraculous!!! She placed you in real life situations. She is full of knowledge, and she kept her students engaged. Successful completion from this program has really helped build my confidence. My biggest fear was dissecting operative reports. With Donna's guidance & expertise, now I find myself searching for operative reports to dissect instead of running from them, lol. The textbooks were also a big help. They provide illustrations and practical coding tips that you may even encounter on the national exam. CUHA provides you with all of the material that you will need to attain your certification. However, it is up to you to utilize all of your resources. I am also a Medical Billing & Coding instructor and I know how hard it is to deliver important information to others. Donna Martin made learning fun. I never missed a day of class because there was always something new to learn. Donna is deeply rooted in the healthcare industry, and she shares her knowledge, skills, and experience with you. I would recommend Codes Unlimited Healthcare Academy to anyone willing to invest in themselves because there really is NO limit to how far you can go!!!
Natasha Gordon, CPC
Donna, I would like to thank you for helping me during your review session and giving me encouraging words for my career. If it had not been for you helping me passed the exam, I don't know what I would have done. THANKS WITH ALL MY HEART!! 
Sonia Banks, CPC
I attended Post-secondary College for 9 months in the Medical Insurance Billing and Coding Course. I made a perfect 4.0 the entire 9 months and was even inducted into the Honor Society. I took the test immediately following graduation and failed it! Twice! I was so heartbroken and confused … Ms. Martin had been the proctor of both tests and I found out that she taught a class from the other proctor (who also attended Ms. Martin's class). I enrolled a little late, but she was more than happy to see that I received all the info she had gone over. She was very thorough and added humor to it. She covers EVERYTHING! Her classes were only on Saturdays, but she made you wish you were coming daily. After taking her class, I passed the exam! She was definitely a blessing to me, and I GREATLY recommend her class to anyone who wants to LEARN how to code correctly! Yes, you must be willing to do the work and pay very good attention to what she is teaching, and you should be successful on the National Exam. Thank you, Ms. Donna Martin! I love you!
Mrs. Nikki Boggan-Golden CPC-A
I worked in the medical billing business for two years when I decided to look into getting my coding certification in order to possibly create new opportunities for me. Everyone I talked to told me that the person to talk to was Donna Martin because she was so knowledgeable and experienced in the field, a great instructor, and so easy to talk to. They were so right! We talked for a long time, and she answered all of my questions and gave me great advice. Unfortunately, her classes had already started so I decided to 'self-study' and take the next CPC exam in April (I would not recommend this!!!). About two weeks before the exam, I took three of the online practice exams that AAPC offered. I panicked! It took me about three hours to get through the fifty questions. I figured I would need nine or ten hours to take the real exam! I called Donna immediately. She graciously agreed to meet with me for a private tutor session. I really do not think I would have passed without her help. She gave great test taking tips, stressed the importance of being familiar with the ICD-9, CPT, and HCPCS manuals, and making sure you are time conscious throughout the exam. I deeply appreciated her help and kindness. I think I would have died if I would have had to retake that long and difficult test!!! I hear that her classes are great and that she makes learning all of this material fun! That takes a special person and I know that after meeting her that she is.
Kelly Whitaker, RN, CPC-A
I enrolled in Donna's class in August 2009. I took the National Exam in November and passed it. I could not have done this without Donna's help. I was extremely nervous and reluctant about taking this exam because I hate failure. Donna's knowledge and encouragement made the difference in me passing this exam the first time. Others told me I could take a prep course and then take the exam. I thank God I did not listen to them. The National Exam is tough but if you follow Donna's lead and put in a lot of hard work you can pass this exam. Donna has a wonderful, fun personality and she really cares about her students. 
Kathey Flagg, BS, CPC
After being an RN for many years I thought my test taking days were over, but to my surprise I found myself sitting for the CPC exam. My only coding experience had been in auditing charts for E/M services and my current job position did not require coding certification. But through the encouragement of a friend, I began to realize that certification would validate my coding knowledge and possibly create new opportunities for me in the future. I do not believe the CPC exam is an easy exam to pass, but I do know that I could not have passed it without first attending the course provided by Codes Unlimited Healthcare Academy. The course gives you the information you need in all areas of coding and Donna Martin is an excellent teacher and motivator. I would recommend to anyone that if you were going to consider taking the CPC exam the course at CUHA is a must.
Linda Murley, RN, CPC
I began Codes Unlimited Healthcare Academy with very little acknowledge of medical coding, but after completing this course I left with great knowledge and confidence in this field of healthcare. Ms. Donna prepared me for both the national exam and the real-life situations within the medical coding field. Not only is Ms. Donna a great instructor, but she also goes above and beyond after the class to assist you in any way possible in finding a job. I completed this course while being a single mother and also in the senior semester of my graduating year of college, so it can be done. I highly recommend this course to anyone who has a desire to move forward in the medical coding field. 
Landria Pitts- CPC-A
I took Donna Martin's coding course after meeting one of her former CPC-A graduates. This was my motivation to receive my certification after being in the medical coding field since 1991. Ms. Martin's class was well structured and planned out. I could tell the first day of class Ms. Martin was motivated and dedicated to helping each student achieve the goal of being a certified coder. Ms. Martin taught me how to code areas I had never done before. With this knowledge and confidence, I set for my first CPC exam. I became certified around 3 months after meeting this wonderful instructor! I highly recommend Codes Unlimited to anyone that has ever felt they wanted to take their coding to the next level, certification! I owe my success in achieving this long-time goal of being a CPC to Donna Martin and her program. 
Connie Noel, CPC--Medical Coding Director/Instructor
I received my CPC certification April 2004 after taking Donna's class and passed the first time. Donna made everything easy to understand and was always available for questions and additional clarification. Since then, I have achieved an additional certification in 2008 with Donna's help and guidance. Donna is a wonderful teacher, and I am very happy I took her class and met this extraordinary woman. Thanks, Donna, for all of your encouraging words!!
Rose Perkins CPC, CPC-H
After going to Coding school for one year in 2002 and taking the exam National Exam twice without passing both times; I went to PMCC for 12 weeks where I met a phenomenal woman by the name of Donna Martin. She taught me the correct methods of coding and being able to pass the National Coding Exam. I passed this 5 ½ hour exam first time around in February 2007. Since then, I have received my CPC-H in 2008 due to addition training from Donna Martin. Donna is an excellent teacher and if you want to pass the exam, she is the best teacher to have.
Yolando Walker CPC, CPC-H
Taking the course offered at CUHA by Donna Martin was the factor that gave me confidence to pass the CPC exam. Donna is a wonderful teacher, who brings her wealth of experience to the classroom. I owe my success in achieving CPC status to this course. 
Marjorie Belanger, CPC Sr. Network Operations Representative
I am a recent graduate of Codes Unlimited and passed the CPC in 2008. I enjoyed the class very much; the instructor Donna Martin is well experienced and knowledgeable in coding and the Medicare guidelines. In order to be successful you have to take notes, review, review, review. Ms. Martin gives you all of the tools needed to be successful in taking the CPC exam. But there is a part you as the student must do. Spend time learning your CPT book and ICD-9 book it will be the tools needed to be successful in taking the CPC and your future as a certified coder. I highly recommend taking Codes Unlimited course to be successful in taking the certification.
Suzette M. Stevens, MHS, MTD, CPC Facility & Ancillary Manager
Owning my own billing company for the past 25+ years I decided that it was finally time to get my CPC certification. I initially tried the AAPC's at home course, on your own product and did not find the time to complete it. After searching the AAPC's web site and local coding companies I came across Codes Unlimited and Donna Martin. What a joy it was to attend her classes. I am not a school type person, and I can honestly say I looked forward to my Saturday morning class with her.

After 12 weeks of study I took my national exam and passed. Ms. Martin's class was very well structured and every week we continued to learn more and more about the ins and outs of correct coding. I also had one of my head supervisors take the course and she passed her nationals on the first try as well. The class was hard but fun and this is what made it so rewarding. I would highly recommend Codes Unlimited to anyone looking to get CPC certified.


Marlene K. Wright, CPC- Medical Insurance Filing Services, Inc.
When I decided to pursue my coding certificate, I started asking questions. Where should I go? What should I do? I was given Donna's name and contact information and was told that if I was serious about pursing my CPC her class would be step number one. When I went to buy my CPT and ICD-9 books for the class the man at the bookstore asked if I was taking Donna's class. He knew about Donna and told me that people come from all over the state to take her class. He was right. There were at least two people in my class who drove over an hour, from Mississippi, to attend class every Saturday. Saturday classes are very convenient for those of us who work Monday-Friday and Donna's class is fun! She's 100% there to help you do your best to succeed and get that certificate. And I did! Thanks Ms. Donna!
Jennifer L. Haney, CPC- Clinical Coder/Account Rep
Codes Unlimited Healthcare Academy was the best educational investment I have ever made. I heard about Donna class while living in Milwaukee, WI. I moved here in May 2008, and I enrolled in her August 2008 class. My knowledge of coding was good, but my understanding came after taking her class. The class was highly informative. Anyone who is looking to pursue a coding career I would recommend Ms. Martin class. Because of Codes Unlimited Healthcare I was mentally and physically prepared and was successful on the national exam. 
Linda Kilbert, CPC
Codes Unlimited Healthcare Academy was the best choice I ever made in pursuing my coding career. Even though I had several years of coding experience I gained so much knowledge I would have not otherwise if I did not take this course. It was truly an educational experience that will help me further my career. 
Rhonda McCaskill, CPC
I passed my national exam in August 2007. I am currently a CPC-A and I am employed at Baxter Clinic in Hernando MS. Donna Martin was a wonderful instructor. The course was well prepared and interesting. In my opinion, the PMCC curriculum was a great asset in passing the national certification. 
Shelly Peyton CPC-A
I completed the PMCC course in 2006 under Ms. Martin's teachings. It was a fast paced, never boring informative learning experience that led to my success in passing the national exam. This course teaches you everything you need to know to be successful on the national exam. Being a registered nurse, having the certification of CPC has further rounded my knowledge in the medical field. I am a reimbursement consultant for a major infusion company that I work completely from the comfort of my home yielding a salary over 60 K. If you are looking for career flexibility, independence and a good salary let Ms. Martin's class be your steppingstone to success. 
Wanda Bamberg, R.N, B.S.N, CPC
As I entered my coding career, I found that the coding foundation I received from PMCC class was enormous. I learned things that I did not even realize that I had learned until I actually came across it while on the job. I felt like the PMCC manuals were informative and easy to study from. I especially liked the coder's tips in the manuals. Donna is an understanding and compassionate instructor and she know coding. I will continue to refer anyone interested in pursuing a coding career to CUHA. I completed the course in Oct 2006 and passed the exam in Nov 2006. I am presently employed by MedAssurant, Inc as a Remote Coding Review Consultant. 
Kiva Harris, CPC
This class was one of the best classes I have taken and I strongly recommend it to anyone interested in pursuing a career in Medical Coding. Donna presents the material in a comprehensively researched, timely and effective manner. 
Kathy Doelling, BA, AAS, CPC, CIC, MCS-P Deputy Director of Compliance
Codes Unlimited opened my mind to the many possibilities of coding. I had just taken the national exam and failed when I heard about Codes Unlimited. The class had limited seating which allows the instructor to focus on the students and instructing. The class teaches you the correct way of coding while applying the everyday working solutions to scenarios. After 12 weeks of instruction, I had the knowledge and confidence to take the national exam with success which led me to continue seeking coding knowledge. I encourage anybody who wishes to explore the challenges of coding to find their knowledge with Codes Unlimited. 
. Joyce Williams, CPC, CPC-P, CPC-H, CPC-EM, CPC-OB/GYN, CMRS